About MATSUYASHIKI
MATSUYASHIKI and Kanaya Family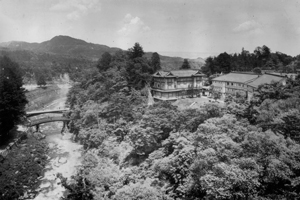 This property, about 33,000 square meters, is called "MATSUYASHIKI."
MATSU means pine tree in Japanese. With more than 150 Japanese red pine trees on the premises, this is the reason why this property is called MATSUYASHIKI. (YASHIKI means residence.)
The story begins from the very beginning of Meiji era (1873).
Nikko had been appreciated by foreigners as resort due to its beautiful natural environment and historical heritage. Zen-ichiro Kanaya, a member of Gagaku (old Japanese court music) orchestra of Toshogu Shrine at that time, volunteered his private house as an accommodation for foreigners visiting Nikko.
Dr. James C. Hepburn, American physician and Christian missionary to Japan, who stayed several times at Kanaya's house, recommended Zen-ichiro open a hotel for foreigners. This is the beginning of Kanaya Hotel. This lodge was called "Kanaya Cottage Inn" which is now open to public as "Kanaya History Museum" where it was.
In 1893, Zen-ichiro opened "Nikko Kanaya Hotel", expanded to 2stories 30rooms building, where it is now. Kanaya Hotel has been in operation ever since.
Kanaya Hotel's management passed from Zen-ichiro to his eldest son Shin-ichi.
The second son, Shozo Yamaguchi, became a director of the Fujiya Hotel in Hakone as son in law of the founder. Zen-ichiro's eldest daughter Tama also managed Kinugawa Onsen Hotel (Nikko-Kinugawa area) with her husband Masanari. There is no doubt that hotel business is a vocation of Kanaya Family.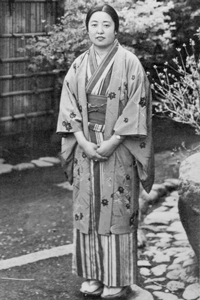 Shin-ichi Kanaya, 2nd representative director of Kanaya Hotel, had 2 daughters.
The eldest daughter Hanako was married with Masao (Kanaya) who became 3rd representative director of the Hotel later. However, Shin-ichi was always concerned about his second daughter Yukiko whose health was delicate. Shin-ichi and his younger brother Shozo Yamaguchi owned a property at Hangakimen not far from the Hotel. Shin-ichi moved an old Japanese house onto the Hangakimen property and made it Yukiko's rest home. This is MATSUYASHIKI.
While MATSUYASHIKI is not far from Kanaya Hotel, the climate and natural environment aided a dramatic recovery of Yukiko's health. She even started engaging with a dairy business and producing fresh milk and butter for a while using the Kanaya brand.
Yukiko passed away at the age of 60.
MATSUYASHIKI regeneration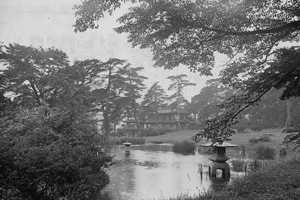 After Yukiko Kanaya, the property went vacant for a long time.
To refresh and maintain this beautiful landscape and natural environment, current owner of MATSUYASHIKI (grand-daughter of Shozo Yamaguchi) started maintenance and reinvigoration of the garden, repair of the pond and its source water stream. By these works the garden was recovered little by little and became fresh. Finally, in November 2015, the house (villa) has been remodeled to maintain its historic appearance.